Categories: Adventure, Animals, Dining, Horses, Relationships, Travel - Tags: Bed & Breakfast, Horses, Olema, Pt Reyes, Pt Reyes Inn & Stables
To celebrate our thirty-first year together and our 28th wedding anniversary, Jim and I decided to celebrate our romance by sleeping with our horses.  No, not literally, but at the Point Reyes Country Inn and Stables in Marin County.  We've been going there now for the past three Septembers and so love it, we are only too happy to return.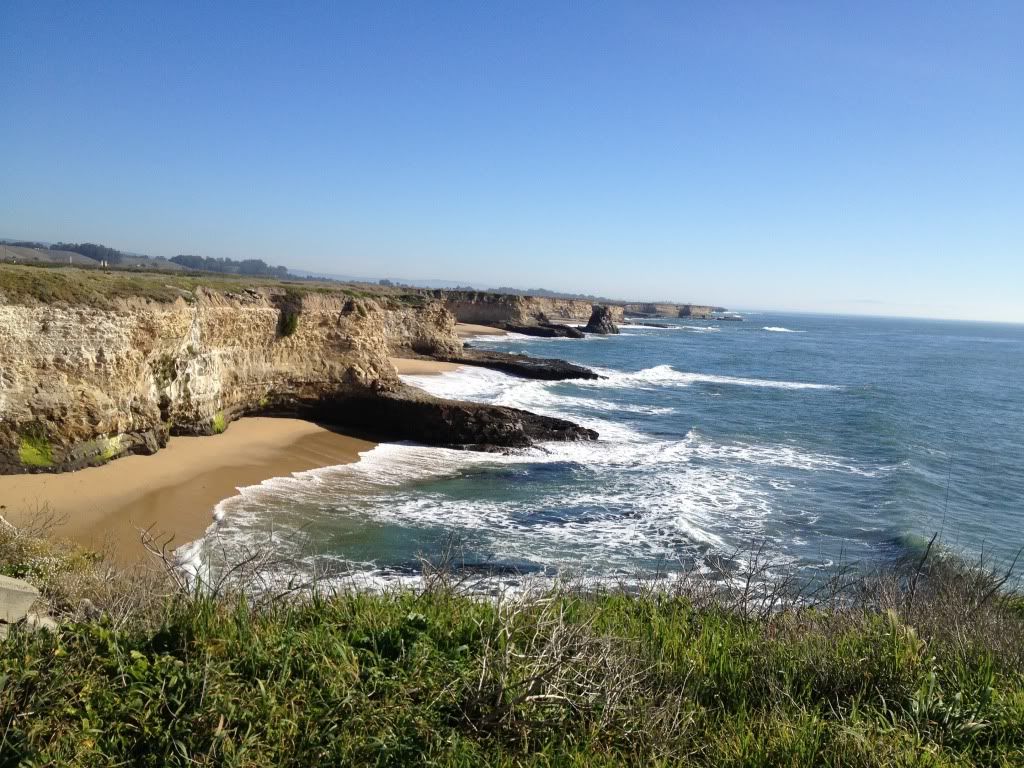 View of Spectacular Pt. Reyes National Seashore, Marin County, CA
I polished the tack, washed the truck, cleaned up the horse trailer and spiffed up horses with baths. Shambhala, my chocolate Rocky Mountain gaited Horse with the flaxen mane and tail, always looks spectacular with or without a bath, but Cheyenne (my "Last White Horse", she vowed) especially needs a bath.  Cheyenne is my dream horse—a little Kentucky Natural Gaited mare, she is a buckskin paint with white mane and black and white tail, four white legs, and large areas of buckskin and white.  She is the smoothest ride ever and the sweetest disposition I could imagine.  Her white legs, white rump and the white in her tail, however, are usually anything but white.  We have an ongoing battle with tarweed in our pasture, and when the tarweed wins, its sticky, gummy leaves rub off on the horses' noses and legs, and wherever there's white fur, it goes gunky dingy funk colored. So, before stepping out for a sleepover, shampoos are square one necessity.
We load up some picnic supplies for the trails, load up the beautifully clean "ladies" in the horse trailer, and set out for an intentionally midweek stay, as the weekends at Pt Reyes National Seashore are often very crowded, and after a long, unseasonably foggy summer, we are enjoying the dog days of Indian summer with a welcome hot spell.  The drive up is uneventful except for the shock of discovering the toll on the Richmond Bridge has gone up to $15 for truck and trailer, and soon to be $20!  Those trolls in the tollbooths have you by the short hairs.  Pay or go home.  So we pay.  We take off 101 onto a beautiful backcountry road north through the beautiful valley of Nicasio.  Jim had cycled there years and years ago, and remembers a wonderful cowboy bar and grill, which, to our delight, is unchanged and open and serving lunch on the patio under the oaks.  Giving the horses a few carrot snacks and letting them out of the trailer to relax under an oak tree, we decide to share a crab cake burger.  Delicious—and we know we're on our way to a good celebration.
Arriving at the Point Reyes Country Inn and Stables, we've reserved "Same Room, Same Paddock, Same Time Next Year" so we settle in like old hands.  Shambhala and Cheyenne clearly love the big paddock with the huge oak tree in the corner and immediately check out the "boys" next door—a pair of black Tennessee Walkers and quite good lookers as well.  The girls are happy and so are we as we find our upstairs corner bedroom waiting—with one deck over looking the meadows and mountains in the back, and the other on the sunny side overlooking the wisteria covered patio and the paddocks below.  We unpack and prowl around the little village of Point Reyes Station, then savor the rest of the afternoon chez nous before dressing up for an absolutely stellar anniversary dinner of local fresh Tomales Bay oysters, fresh cod and wild caught salmon at the tony Olema Inn.
As the Inn is a B & B, we are served breakfast and meet other horsey folks visiting at the same time.  We swap stories about horses and riding plans.  Jim and I have ridden most of the trails in this beautiful area, so we're looking for some we haven't ridden yet.  All of us are leery of anything close to the two trails where some very aggressive bees have hives and have attacked both horses and riders, including one guest last week who ended up in the hospital after her horse went beserk. No, we won't do the Wittenberg or the trails this year!   It's predicted to be in the high 80s today, so we opt for the very southernmost park of the preserve and the coastal trail out of Palomarin, with a picnic ride to Bass Lake.  It turns out to be a gorgeous, dramatic nine mile ride with sweeping views from Drakes Bay south to Bolinas Bay, and a few stomach curdling drop offs down to the wave-pounding rocky coastline below.  The horses are barefoot, so the only drawback is some of the terrain is ouchy-rocky for them; I plan to put on their rubber booties if we ride on this type of terrain tomorrow.  Picnicking at the lakeside, Jim hoots out loud when a bright red claw emerges from the weeds of the murky bank—Whoa!  Guess a large sweet water crayfish is trolling for handouts!
Back at the inn, the horses check out the boys next door to their paddock and we shower off the trail dust and hot weather sweat before enjoying another relaxing evening and delicious repast at Stellina's with a delightful young couple we've met at the inn—he's a commercial pilot and she an Ecuadorean beauty and they are as interesting and charming as they are handsome.  We're always happy when we meet new YOUNG and active friends and they love to ride!
Thursday, we decide to try the Rift Rim Trail toward Five Brooks out of the Bear Valley trailhead and we are delighted!  First of all, Cheyenne, who has never behaved very well at opening gates, has a star performance as we have about six gates out and back to open and she nails them all!  Second, there are vast open meadows with black Angus cattle grazing and an opportunity for some full out yee haw galloping!  The horses (and we) LOVE to pull out the throttle when there is good footing, excellent visibility and wide open space—beyond the big meadows, we come upon streams, leafy forest glens and best of all no other souls for the whole ride.  We end up riding back into the little village of Olema to share a salad and cup of clam chowder—its fun to tie up at the Olema Farmhouse tierack for lunch.  That afternoon, after retiring the horses and unhitching the trailer, we drive the truck up the coast to pick up a bountiful bakers' double dozen fresh oysters and ice for the trip home to grill, so that withdrawal from this beautiful respite won't be so hard to take.