Categories: Adventure, Biking, France, Health and Fitness, Horses - Tags: Camargue, Marseilles, Rhone River
Our tour's final ride leaves Arles on Sunday morning for a route through the Camargue; a national wildlife refuge on the Rhone River Delta. Jan and Bill report that on their scouting trip they spotted wild horses, pink flamingos, mammals related to woodchucks, storks and various birds of prey. They also passed farms where they saw the Camargue breed of bulls grazing. They've made an optional unpaved loop which passes two lighthouses and offers views of the Grande Rhone Delta into Mediterranean.
From the Camargue we will ferry across the Rhone and reach Port Saint Louis; where the Amadeus Symphony will be waiting with lunch in time to pack our tandems on the top deck, cruise back upriver to Arles for a farewell banquet.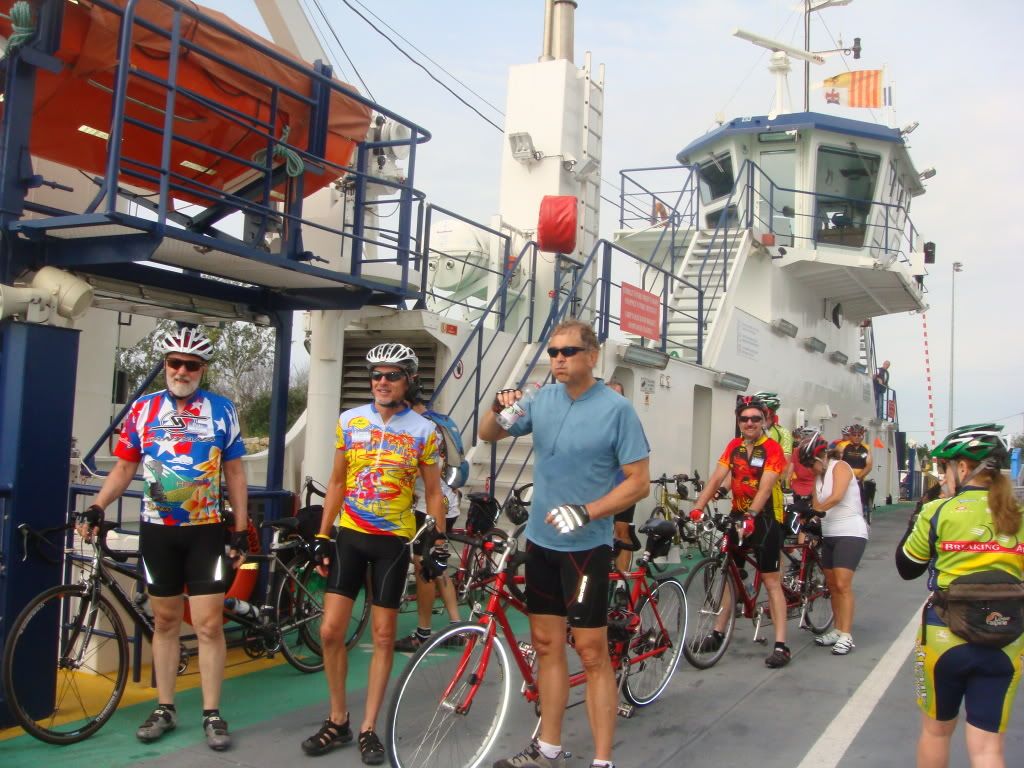 Jim and I have a 6 AM flight tomorrow from Marseilles so we have to wake up at 2:45AM for a 3AM bus from Arles to the Marseilles airport.  This promises to be a very full day—but I am really excited to ride and especially to see the wild horses of the Camargue.  There's a fantastic YouTube video floating around the web in which one of the Camarge cowboys harnesses up six of the grey-white ponies—two in the back and four in the front—and rides them at full gallop along the tidal surf of the delta—He rides by standing barefoot, one foot on each of the two back horses.  It is extraordinary to see these beautiful beasts, flying fearlessly along the tide line, in total harmonious connection with their cowboy rider/driver.  Soon, he signals to them to head into the sea and swim.  The video ends with the image of the six horses heads only showing above the water line—manes wet, powerfully pulling forward, swimming in the surf, with their rider standing barefoot on the rumps of the two last horses.  Clearly magical.
Do I dream of coming here to the Camargue and seeing the place where this amazing horseman and these magical horses live?  Of Course!  So waking in the 6 AM darkness to get up and get dressed for the day, I am SO disappointed to hear Jim croak, "I'm not riding today."  It doesn't sound negotiable.  Tandem riding is wonderful, but it does have this one major problem.  It takes two riders, both desiring to ride.  Suddenly, with great disappointment, I realize that we are/ I am boat bound today and my dream of riding the Camargue will not happen.
But wait, maybe somebody else on this boat, another captain of a tandem, may be hearing the same message from his stoker, that she has caught the cold that is going around everywhere and is opting out for today.  I decide to "dress for the dance" even though I don't have a dance partner or dance invitation, just in case there's an extra captain in the dining room at breakfast.  Jim encourages me to do that and after our morning ablutions, at 7 we head down for breakfast .  I head straight for Bill and Jan McCready's table to let him know I am available to stoke.  Then, realizing that a river delta is going to be totally flat, I head over to find Wolgang, the German psycylist, figuring how dangerous could it be on the flats with him?  But his partner is pertly dressed and ready to ride.  I look around the dining room and, typical tandem style, there are pairs and pairs of matching jerseys, indicating green light for all the tandems, except in the case of those who aren't suited up to ride at all.
I circle the dining room three times, asking around and feeling exactly like an awkwardly gangly 7th grade wall flower at an excruciatingly painful school dance with no partner.  Oh, well.  Not meant to be.  Best to make the best of it.  I can write my blog and pack very calmly.  As I am eating breakfast, I hear Bill pick up the microphone and announce, "Any of you captains out there without a stoker today, Harriet Wrye is a small very strong stoker, looking to ride….." I am so embarrassed at being singled out like this, but it actually works. Loren from near Houston, Texas is hale and hearty but his wife Kelly has succumbed to the cold, probably from overstressing up Mt. Ventaux.  But she DID Mt. Ventaux, and Loren looks a lot younger than me.  Nevertheless, I am thrilled to be able to ride, so off I go to get my waterbottles, rain gear, camera and helmet.
Man, what a ride it was!  Just about the last ones to leave the boat after adjusting the seat and pedals to fit me, and with the wrong map loaded on Loren's Garmen GPS unit, we sail out of town in the wrong direction.  Not a problem.  Loren is in fine fettle and he and Kelly have a tandem microphone setup so they can talk to each other.  What a great idea!  Plus, they have the most comfortable bike seats I've ever ridden.  With Loren's youth, strength and my gratitude and gumption, we fairly fly the thirty miles across the Camargue, stopping for a few photos of horses and egrets.  What a fun finale, and to boot, when we make it back to the boat at Port St. Louis, Jim has been feeling well enough to disassemble our "Pandemonium, Commotion Tandemonium" and pack her up in her two bike cases.  All that remains is for us to enjoy a final delicious lunch and for me to pack up our personal gear.  Soon, this amazing trip will become a shadow of a sweet tandem memory. . . .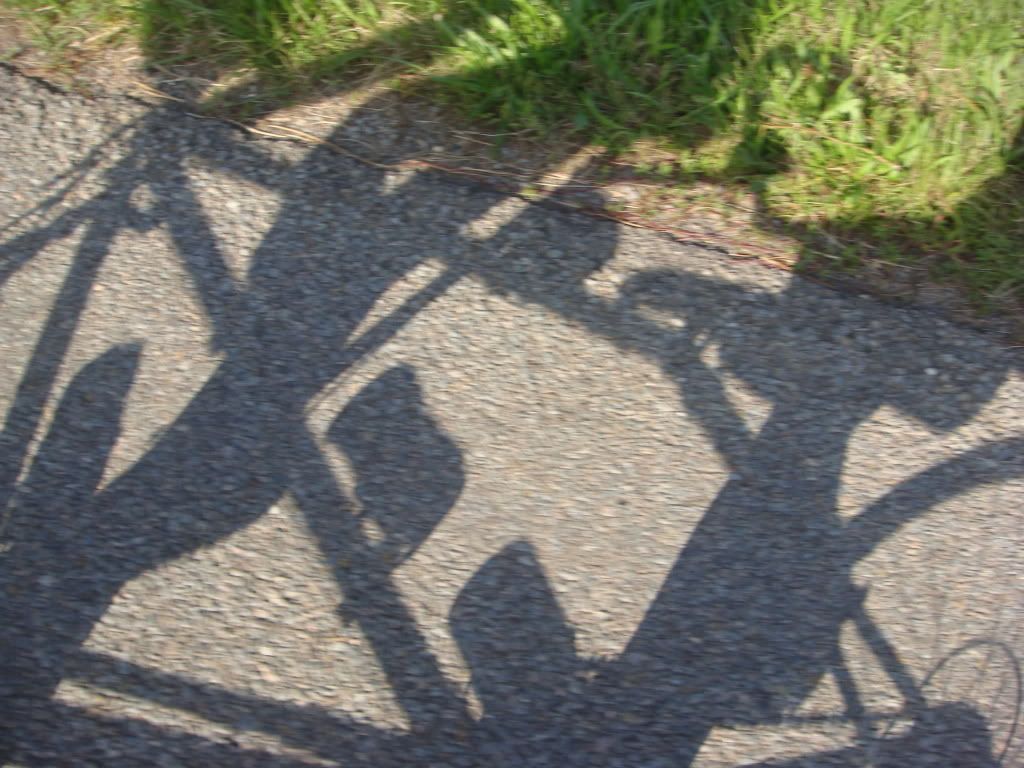 At our farewell lunch, we just serendipitously happen to land at the "dog" table—everybody is talking about their dogs—and puppies—and this gives me a wonderful chance to refresh my rusty memories of puppy training—and to share our good news about going home to pick up our new Poodle puppy, "Monsieur Bon Bon de Beau Beaune" this week, or Beau for short!